by Christopher M. Robb, Quantum Solutions Director of Business Development | September 14, 2016
Comments: 0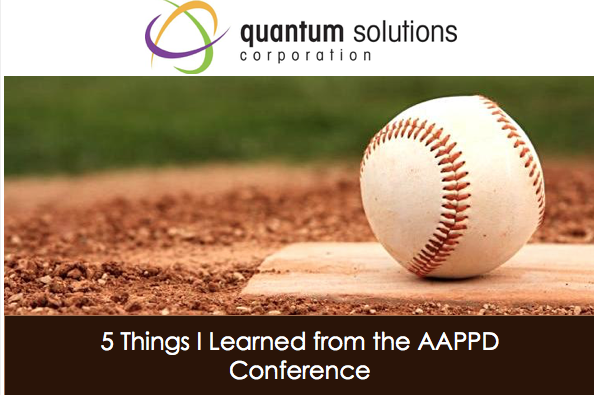 This year was Quantum Solutions first year attending the AAPPD conference. I was happy to be there, but also learned a few things while I was there.
By: Christopher M. Robb, Quantum Solutions Director of Business Development
Always bring a baseball to the Airport.
I don't know how many of you out there are baseball fans, but I am a bit of a fanatic. When I arrived at Phoenix International I met Tony La Russa walking through the airport. That's right! The winningest manager in baseball history. With six Pennants and three World Series titles, he is pretty much… The Man!
Okay, I didn't really get to meet him. I said his name and waved. He shot me a sideways glance and a half wave that said, "I'm in a hurry. Leave me alone." It was still very exciting for me. This may not seem a big deal to some, but it pretty much set the tone for me. This was going to be a great conference!
Regulatory agencies can always find new ways to make you cry.
After spending fifteen years working in long term care, I didn't think there was any new way that a representative from a regulatory agency could make me want to curl into a ball and openly weep. I was proven wrong at the conference when I snuck in the back to hear guest speaker Dr. Laura Love address the attendees. It was inspiring and moving. I admit, I was not prepared to be as moved by her speech as I was. It reinforced the fact that we all get into this field for a reason. From a Direct Support Professional to the CEO for the Division of Developmental Disabilities. We all care. By the end of Dr. Love's speech, I had to excuse myself for a trip to the restroom for eye drops. I… uh… had something in my eye. Thank you Dr. Love for your "brutal honesty."
When all else fails… Let a Direct Support Professional handle it!
Providing DSPs with every possible tool to make their jobs easier has always been a passion of mine. The keynote speaker, Joseph M. Macbeth, really brought this home and reminded us that DSPs are on the front lines of providing quality care. The anecdotal stories he presented brought back memories of situations encountered working the front lines. As funny and entertaining as these stories are, it is important to remember that these situations occur regularly and the answers simply can't be found in any playbook. No matter how extensive the big book of protocols, you can't be prepared for everything. Making sure that DSPs have the background information and training to be able to make good judgement calls will help them to handle stressful situations and mitigate risk factors. This benefits the DSP, the person they are providing service to, and the agency they work for. Have you hugged your DSP today? You may want to explain the hug before you dive right in there. Let's not add to their stress.
Arizona is the place to be.
I thoroughly enjoyed the conference. Everyone was so nice. Even though this is our first time attending the conference, I would not hesitate to walk up to any one of the conference attendees and strike up a conversation. Everyone was attentive to the sponsors, seemed to be enjoying themselves, and were happy to be there.
When I was working as a Nursing Home Administrator, I would often attend conferences where the content was so depressing that you hated to attend, but…
"I had to get the CEUs!"
I attended one conference that consisted of two days of: "the coming year will bring additional regulations that you have no budget for, regulators are not to be trusted, and a thorough explanation of all the new exciting ways to land in hot water."
When asked, "What did you take away from the Administrator's conference?"
My response was, "I learned that I didn't want to be an Administrator anymore."
This conference was optimistic and inspiring. I enjoyed the Speakers and loved getting to meet everyone. I can't wait to get to know you all better, and look forward to next year.
Quantum Solution's lip moisturizer is the balm!
Seriously, did you get some? If not, let me know and I'll send you a couple. No Kidding!
Okay, so maybe I didn't learn this at the conference, but I did learn that having candy at my booth can lead to unexpected weight gain.
That's all for now. Hope to see you next year. I'll be the one on the hotel treadmill working off the Reeses and Snickers.

Christopher M. Robb
Director of Business Development
13936 State Highway 97
Petersburg, Illinois 62675
Office: 217-632-3066 ext. 127

Learn More about Quantum Solutions by clicking here.
Tags:
Comments
There are no comments at this time.
Leave a Comment